What is a Managed IT Service Provider (MSP)?
Managed IT services are a form of outsourcing in which an independent IT service provider takes on the responsibility for the management of an organisation's computer systems. This is usually done in exchange for a monthly fee and it's a way simple and efficient way for a company to acquire dedicated IT expertise without having to hire or train staff.
MSPs provide a range of managed IT services from customising existing systems, to providing a complete IT platform from systems and applications, to the technical consultancy they offer.
Providing businesses with routine, cost-effective services such as cloud storage, data cybersecurity, data loss prevention and network monitoring. The MSP provides remote IT support to businesses that would otherwise need to pay an IT department in-house.
One of the most important aspects of MSPs is the emphasis they put on providing proactive support. Rather than simply responding to issues that arise, an IT MSP will proactively monitor the system to find issues before they become problems.
By outsourcing your IT services to IT consultants, you can ensure that your computer systems are always protected and you're never caught off guard by a technology failure.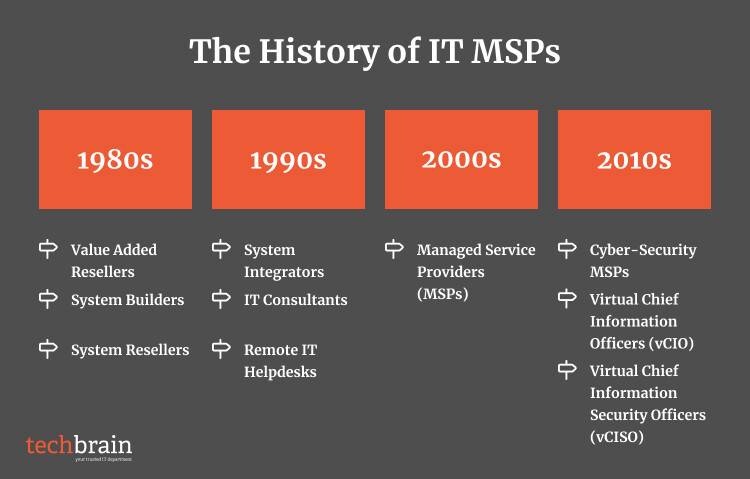 Growth of Managed IT Services
The future of managed services is all about managing the complexity that comes with all of the other technologies that are being used and the push towards digital transformation; as the vast majority of businesses are actively working towards becoming digital first businesses. Having been around for a few decades, these factors have combined towards a dramatic surge in popularity in managed services.
The best way to scale a business is to automate. The growth of managed IT services is a great example of how businesses are doing just that. Managed IT services allow businesses to outsource the maintenance and management of their technology and eliminate the inefficiencies associated with an internal it team, that have become all the more glaring in a pandemic economy.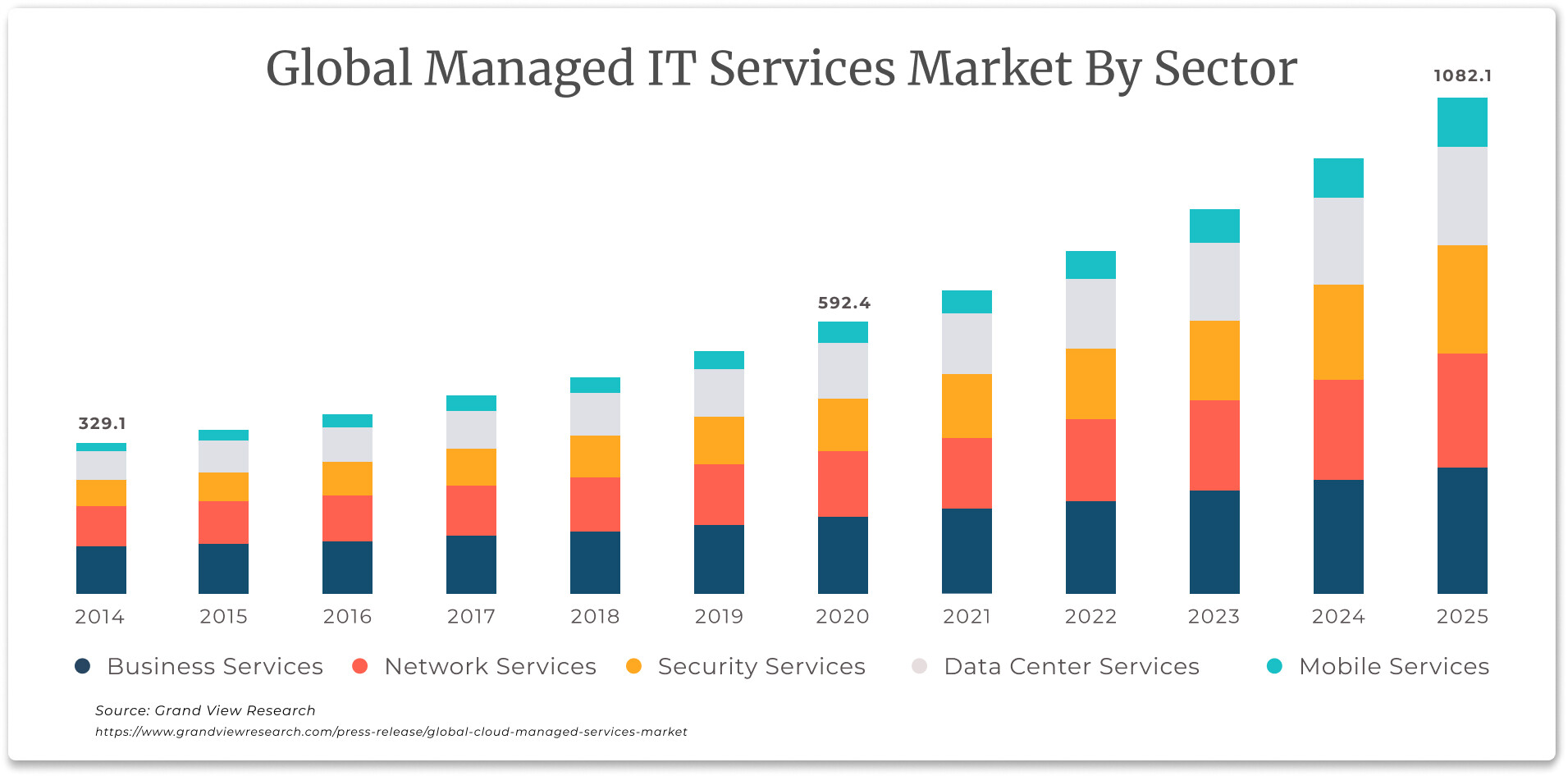 Statista estimates that 30% of all employees are currently working from home. With COVID-19 causing unprecedented disruptions to traditional working environments all across the world, the rise of remote working arrangements now means that managed services are more needed than ever.
In fact, in their annual report on the global Managed Services Market, MarketsandMarkets forecast that the managed it services industry is expected to grow from USD 223.0 billion in 2020 to a whopping USD 329.1 billion by 2025.
The future of managed services has everything to do with transparency. Clients are demanding to know how their money is being spent and they want to know what steps their vendors are taking to ensure their information and their businesses are safe with cybersecurity capabilities increasingly becoming a key differentiator between an average and top managed service provider.
Fixing the Break/Fix-It Service Model
Before managed service solutions made their mark on the industry, the 'break/fix-it' model was a popular option for businesses wanting a 'quick fix' for their IT problems. However, over time, it became clear that this model came with many deficiencies.
Firstly, the model failed to adapt to the changing nature of the IT industry. It focuses on one-off solutions to issues, but doesn't address underlying problems within the entire infrastructure and wider IT needs. This leaves businesses susceptible to future breakdowns and system failure.
Secondly, break/fix services do not incentivise long-term management and monitoring of IT processes. In fact, break/fix providers thrive when your systems are flawed.
Outsourcing a managed service provider will eliminate these problems, while providing many other benefits.
vCIO & vCISO
One of the most innovative aspects of managed IT services is the ability to utilise a Virtual Chief Information Officer (vCIO)/Virtual Chief Information Security Officer (vCISO). These officers act as a designated expert, providing ad-hoc, round-the-clock IT support to your business.
What's especially useful about a vCIO/vCISO is that they are able to develop a comprehensive technology roadmap by holistically looking at your business' goals and objectives, and optimising their IT strategy to tailor to that.
To learn more about outsourcing a vCIO/vCISO, check out our what is a vCIO article.
Top 10 Benefits of Managed IT Services
So what are the benefits of managed IT services? A managed service provider goes beyond just completing one-off IT tasks. They are involved in all aspects of the network, security, compliance, support, user experience and implementing new technologies.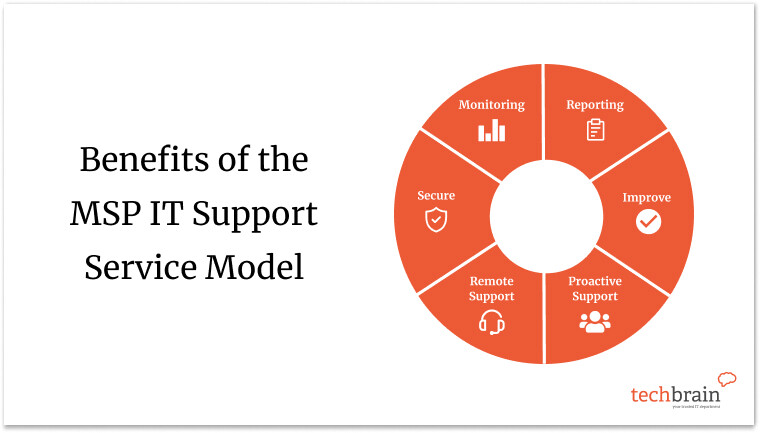 Reduced Capital Expenditures
One of the most attractive benefits is a business' potential to save significantly on IT costs. These are some reasons why using an MSP works out to be extremely cost efficient:
Cheaper than hiring full-time IT team. The average Australian salary of an in-house IT staff member is $69,308. Engaging a managed service provider costs a fraction of this. Instead of spending on IT staff salaries and having to form a full IT department, outsourcing managed services means that your company is only utilising the people that are needed.
Cheaper than break/fix-it model. Break/fix-it service providers usually end up charging more than a managed services provider. Instead of working on improving technology efficiency and productivity, break/fix-it service providers benefit from network downtime and other IT problems.
Low initial investment costs. The initial investment is usually low as you'll be paying for an operational expense instead of a capital expenditure. You won't have to spend on high upfront costs on software, hardware and other IT resources.
Increased Transparency
A managed services provider will study the inner workings of your technology infrastructure and be proactive with IT solutions – reducing the possibility of unexpected costs.
You'll also benefit from predictable monthly costs. Regardless of the amount of support your business needs, you'll only be paying a flat fee for the service every month.
Certified IT Professionals
When you utilise managed services, you're essentially hiring IT experts with all the necessary experience, qualifications, and training. These experts have accumulated a wealth of industry knowledge and expertise on providing a high quality service from the get-go.
Enhanced Data & Cyber Security Standards
The rise of cybercrime and data/cloud security breaches present a major business and insurance risk. MSPs can ensure that all your systems are compliant with the necessary regulations to avoid any risk in the future. This includes making sure that your business meets all PCI Security Standards. PCI compliance includes ticking off items such as installing and maintaining a firewall, restricting access to sensitive client data and the regular testing of security systems.
Increased User Efficiency and Productivity
Through strong end user support, users will be up-skilled – leading them to be more confident and knowledgeable using the systems. Additionally, expert support and training will be readily available for users/employees/staff looking to be more productive on the systems.
Efficient Implementation of New Technology Roadmap
An MSP will be able to implement a new technology roadmap that addresses both the short-term and long-term technology goals and objectives of your business. This provides businesses with invaluable guidance on what direction your business should move towards.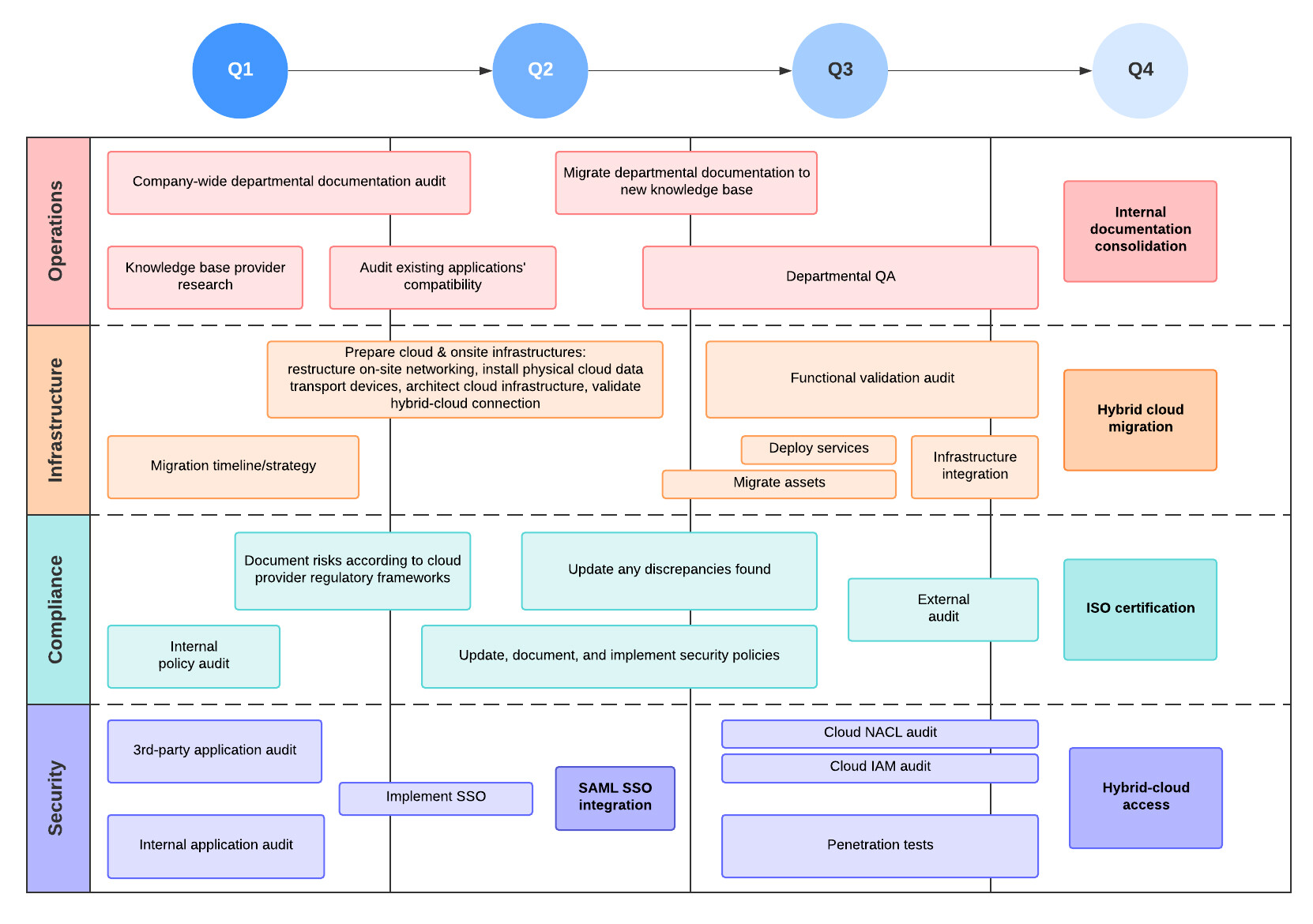 Proactive On-Demand Support & Monitoring
We get it – time is money. That's why having 24/7 round-the-clock support comes in extremely handy when using a managed service provider. MSPs sometimes also offer on-call options and weekend support – making them easily reachable in moments of distress.
Reduced Network Administration & Downtime
Staggeringly, the cost of network downtime works out to be approximately $5,600USD per minute, and roughly $300,000 per hour. There's no time to waste when it comes to any outages – that's where a managed service provider can jump in and save the day by diagnosing the problem and implementing a solution.
Achieve Your Core Business Objectives
You're running a business first and foremost, and you don't want to be snowed under by focusing on your business' IT systems. Hiring Managed IT services means a hassle-free experience by letting the experts handle all things related to technology – leaving you to focus on achieving your core business objectives.
Scaling Your Business
Flexibility is key with hiring MSPs. As business owners, the decision to scale up or down is in your hands as a discussion with your service provider is all that's needed to order extra services or reduce them. This will become a much-appreciated benefit as your business contracts or expands.
Onsite vs Cloud Managed IT
As the IT industry transitions away from onsite server storage into a cloud storage-dominated space, it's important to understand why this change is taking place.
Onsite storage refers to data that is held on-site (usually on the physical premise of the business) through hardware. Cloud data is stored via software, through the internet. There is no physical location for this data.
So why are onsite servers becoming redundant? Here are a few reasons:
Expensive. The hardware to store onsite data must be purchased, and often this is expensive.
Space. As the data is stored in a physical location, the server takes up physical space that could be used in other ways.
Hardware failure. Fixing hardware failure can be complicated, time consuming and costly. Additionally, data loss could occur.
Maintenance. The cost of manual maintenance is high. These can include electricity costs and the cost of repairs.
In contrast, cloud storage offers the following benefits:
Easy to scale: You can scale up or down depending on your data needs.
Data backup: The data backup process for cloud data is much easier, less time consuming and cheaper.
Availability: No physical location is needed to store data. The data can be accessed and shared by users globally.
Security: The data can be monitored and protected remotely, 24/7.
Inexpensive. Compared to onsite data storage, cloud data is much less expensive to store.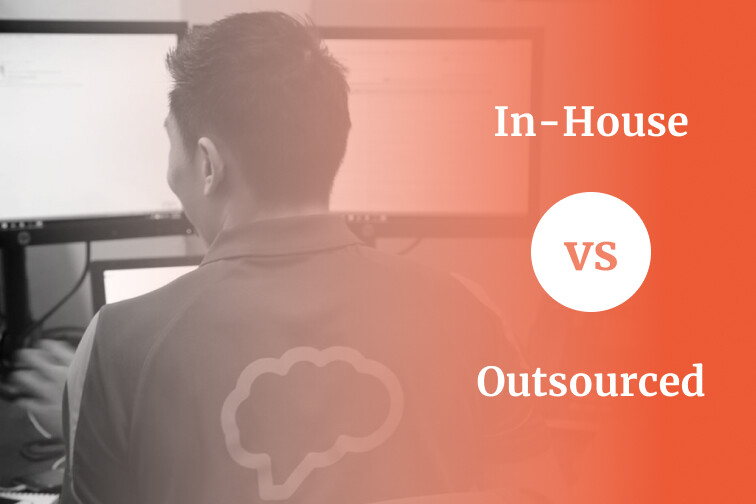 Local v Outsourced / White Labelled Solutions
Local or in-house solutions refers to activities that are conducted within your company using your own staff. In contrast, outsourced or white labelled solutions are those that are conducted by a third party, and rebranded as your own.
In the context of MSPs, businesses are able to outsource managed service providers to come up with certain solutions and market them as their own, instead of relying on its own employees to do the work.
White labelled services can be more beneficial than local solutions in many ways:
Less Hassle. Utilising white labelled solutions means you take the stress out of any research and development that needs to be carried out.
Cost Efficient. Similarly, you'll be able to save on any R&D costs associated with an in-house team working to find a solution.
Focus on business objectives. Delegating tasks to white-labelled services leaves your business focused on reaching its goals and objectives.
Small Business vs Enterprise Managed IT Services
Whether you're a small business owner or managing a large enterprise, managed IT services are still beneficial – regardless of business size.
MSPs are especially appealing to small businesses (those with around 10-200 employees) who may not have the budget to have their own IT department or dedicated IT program, but are still seeking to keep their technology up-to-date and streamlined with their business objectives.
In these circumstances, engaging a managed service provider is an excellent cost-efficient choice that allows access to expert businesses IT services, without breaking the bank.
Finding a Top Managed IT Services Company For You
A managed services provider can help eliminate many headaches and streamline operations. This can be a great way to save time and money, but it's important to choose a managed services provider carefully. It's a huge commitment for your business and you don't want to work with someone who isn't the right fit.
When hiring an MSP, you should look for the following positive indicators that might set a great managed IT services company apart from an average one:
Qualifications and Experience. The MSP should be highly knowledgeable and qualified – having had years of experience under their belts.
Flexibility. A quality MSP should be able to customise and tailor their service to each individual business.
Budget. The services should be reasonably priced and within your budget.
Availability. Support response should be available readily and easily.
Customer Satisfaction. The managed services provider should be friendly, approachable and helpful.
Long term. Is the provider looking to fix problems or prevent them in the long run? The MSP should be invested in your business' future by providing far-reaching preventative solutions. An example of this is providing centralised services.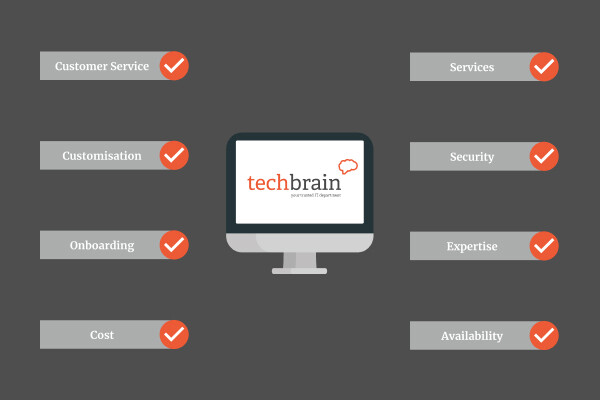 Equipped with over 20 years of experience, the friendly team at TechBrain are not only highly qualified and certified tech experts, but invested in the long-term goals of your business. At TechBrain, we don't just patch problems – we prevent them instead.
As a leader in the Australian IT industry, we provide a wide range of innovative, cost-efficient Managed IT services that have been helping businesses stay on top of their technology for decades. To find out more about how you can leverage our unparalleled expertise through our Managed IT Services, schedule a call with us today.