In the current climate of inflation and rising costs, businesses are doing everything they can to better manage their budgets.
One way that this can be achieved is through IT staff augmentation. Not only does it help you to cut costs, but it also delivers a service that bridges the gap between your technological needs, and the resources available to meet those needs—which, as demand for skilled IT specialists grows, is only going to become more of a challenge.
What is IT staff augmentation anyway?
IT staff augmentation is a strategic business approach that involves supplementing your company's existing teams with external talent. This extra talent integrates into your teams to fill a specific skills gap or provide an extra resource within your IT department. This can include engaging a single professional or an entire team, working on either a per-project, short term job positions, or on a long-term basis.
While it may sound like simple outsourcing, in practice it's somewhat different. Where outsourcing sees you delegate certain responsibilities to an outside team, staff augmentation sees your external talent work alongside your existing team, as an extension—as the name suggests, effectively augmenting their capacity and capabilities on a needs basis.
Staff augmentation can be project-specific, covering roles like boosting your in house software development team, supporting your data analysts, or deploying cyber security experts, or it can be service-specific, like engaging a Managed Services Provider (MSP) to deliver enhanced IT services for your company.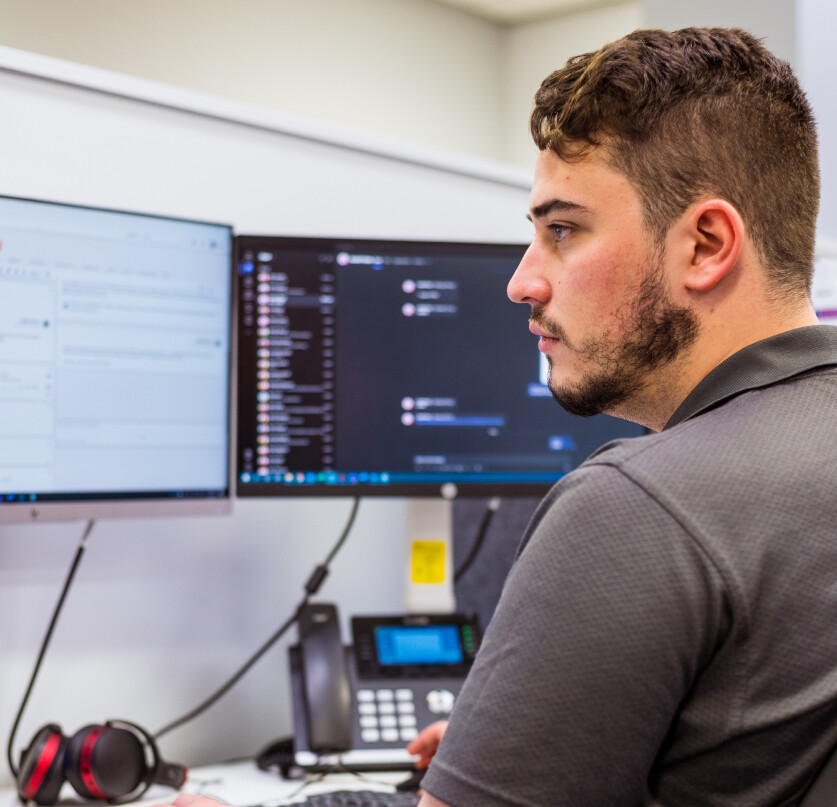 Get expert IT staff augmentation with a Managed Services Provider
These days, you'll find companies of all sizes engaging MSPs to augment their IT teams. It's a common form of staff augmentation—and with very good reason.
MSPs come on board to take charge of your IT infrastructure and systems. They integrate seamlessly into your workflows and processes, providing specialised IT support that, unless you're in the IT field yourself, operates at a level typically not possible with an in house team.
Your MSP provides a wide range of services, like network administration, cyber security, data backup and retrieval, cloud computing, and more. It's much more than just an external helpdesk: your MSP has access to cutting-edge technology, systems, and services, working with you to enhance the efficiency and efficacy of the IT across your entire company. And they do so remotely, acting as an external team extension, without the need to take up valuable office floor space and resources.
How to effectively use an MSP for your IT staff augmentation
Effectively leveraging an MSP for your IT staff augmentation is a move that can put your company on the path to improved capabilities, optimised efficiency, and streamlined performance. 
But to maximise the benefits of this new extension to your IT team, it's important to make sure an MSP is the right fit for your company.
Determine your staff augmentation objective
To truly take advantage IT staff augmentation services with an MSP, you need to ensure that their delivery matches your company objectives. 
First, what specific outcomes do you want to achieve by augmenting your current IT team? Is it to offset their capabilities with more capacity? Is it to fill a shortfall in skills required, deliver a specific IT project, or cut headcount entirely and outsource your whole IT team to a skilled service provider?
To be honest, MSPs may not always be the best staffing solutions for your company (we'll touch on this later in the article).
But if your goal is to reduce spend, keep headcount at a minimum, boost your level of IT skills and capacity, with the ability to scale your IT scope as business needs dictate, then an MSP is the ideal IT staff augmentation solution.
Assess your IT needs
Once you've decided that an MSP is the best staff augmentation model for your company requirements, you then need to identify the specific areas where their critical IT support will help.
Speak with an MSP directly and engage them for a network audit. Doing so will identify where they can help your company streamline your IT and reduce spend—and it might not be where you think.
Identify the gaps in your IT
It also helps uncover the gaps in your IT capabilities, and identify those areas where you know that IT skills are lacking. It could be as straightforward as adding 24/7 help desk support to augment your daily tasks; or it could be undertaking cloud migration, upgrading your infrastructure, or enabling a complete cyber security and disaster response solution.
Finding the right MSP for your business needs
Once you've determined your ideal team size and specific needs, finding the right MSP makes all the difference in successful IT staff augmentation services.
So take the time to meet with your potential MSP. Have a chat, discuss your needs, and assess the cultural fit first; make sure they understand your specific business needs, that they understand you, and that they have clear communication protocols in place to ensure a smooth process. Be sure to check references and reviews, and see if they're skilled at dealing with clients in your industry.
Their technical expertise and soft skills should be a given: but make sure they actually have the capacity to deliver what you need. Discuss their cyber security protocols and data protection measures to ensure your business's sensitive information is safeguarded. Consider scalability, too. It's critical to choose an MSP that can scale with your business as it grows, accommodating changing requirements and IT environments.
But as well as technical capabilities, boosting existing staff capacity, and ensuring a safer organisation, the biggest benefit you can expect from engaging an MSP is the cost savings.
Managed services drive long-term cost savings
IT staff augmentation through an MSP is a powerful way to optimise your IT spend. Let's look at a cost analysis of team augmentation services versus a full-time hire.
Full-time hire
While a full-time hire may feel more permanent, engaging a single internal resource is a costly endeavour. Costs for hiring process alone are estimated to be around $23,000 per role, taking on average 33-40 days to complete. 
As well as search, recruitment, and onboarding costs, you also have to consider the ongoing salary. For an IT specialist, these can range anywhere from $65,000 for a junior role, to $108,000. For an analyst role in cyber security you can expect to pay a salary of around $105,000 per year.
As well as salary and onboarding costs, there's also the learning curve and training required to ensure they're across your business systems. It's estimated to cost around $5,500 per new hire just to get them up to speed, with an extra $1,200 for training on top.
Engaging a full-time hire is a costly exercise. 
IT staff augmentation services
Compare that to engaging an MSP. There are no search, recruitment, or onboarding spend. No salary, superannuation, health insurance or worker's compensation; no capex outlay for new equipment or office space. 
You pay one set fee, which is usually charged per user or per device, or a flat rate fee model, which covers all the services your MSP provides, and scales as your company grows.
And rather than spending hundreds of thousands of dollars on one role, with an MSP, you gain access to an entire team of diverse tech talent. While you may work directly with one person, you get peace of mind that their team is backing them up.
Any training or upskilling is managed on their end, as part of their opex budget—you don't have to pay a thing.
They also manage the vendor and technology provider relationships, which can provide access to better prices, a further cost saving that can boost your bottom line almost immediately.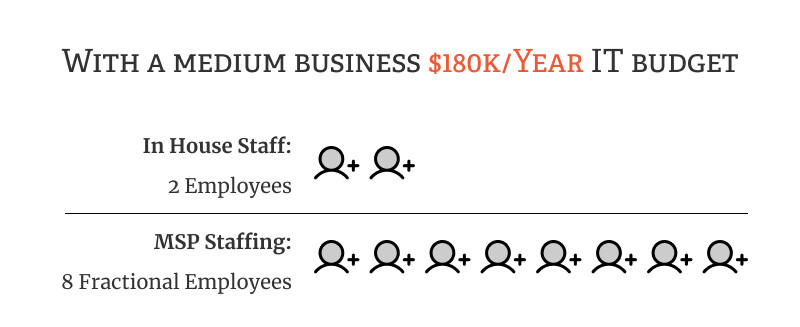 Staff augmentation with an MSP provides a more efficient cost structure
When compared to traditional external IT resources, or even to internal hires, engaging an MSP provides a more cost effective structure.
Engaging an MSP eliminates the occurrence of additional fees popping up here and there for training. It reduces your capex spend: no need to make upfront investments in new hardware, technology, or operational infrastructure. Your IT needs become an operational expenditure, which you pay for as one set service cost, allowing for more predictable, accurate budgeting.
Minimise recruitment and onboarding costs
When compared to the traditional hiring process, the benefits of engaging an MSP are clear. You eliminate the search and recruitment costs, advertisement and agency fees. Your HR team can save up to 13 hours each week, which would otherwise be spent sourcing candidates for your role.
Instead, you're engaging an experienced, expert team that integrates seamlessly with your network, systems, and IT processes, with minimal training and onboarding required.
Reduce overheads and long-term hire costs
Engaging an MSP rather than recruiting a full time employee has other cost reductions, As well as the long-term cost, like salaries and superannuation, you also save money on insurances, leave, sick leave, and other benefits typically offered to full time employees.
Instead, you pay one monthly, quarterly, or annual subscription fee which, over time, works out to be a fraction of what it costs to onboard a full-time resource. There's no need for training budget either: IT is the main focus of your MSP, so they manage the necessary training, upskilling, and education for their team. 
As well as this, consider that your MSP works remotely, further reducing overheads like office space, equipment expenses, and energy use.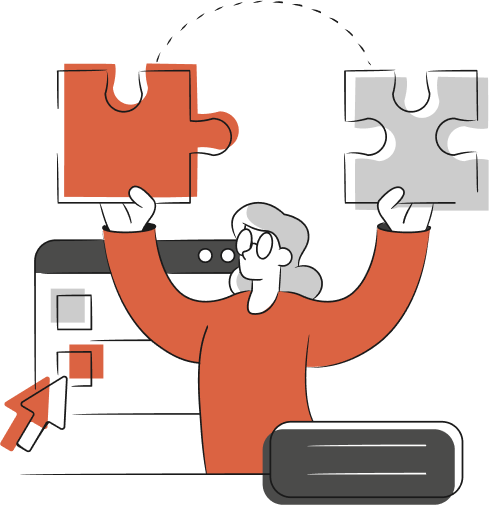 Where IT staff augmentation can integrate with your company
There are some specific use cases where IT staff augmentation is required. Let's look at these in more detail, and identify both where engaging an MSP will be your best option, and where it may be beneficial looking into alternative staff augmentation models and outsourcing models.
Short-term projects
When compared to a full-time hire, staff augmentation is one of the best flexible engagement models when undertaking short-term projects. For example, it could be engaging a team to build an app, migrate a website, or deploy a hardware upgrade. But it's a situation where engaging project-specific staff augmentation companies may be a better fit, rather than an MSP. MSPs are better suited to ongoing IT services—but during this engagement, specific IT projects are definitely within their remit.
Addressing shortfalls between hiring
If you're considering addressing staff shortfalls that occur between one IT staff member leaving and hiring a new employee, think back to the cost analysis. Rather than going through the process of hiring a full-time resource, it may actually be more beneficial, cost-wise, to engage an MSP for your staff augmentation needs for the ongoing future. This allows you fill any gaps much faster than traditional hiring strategies, or fight periods of high staff turnover, while also ensuring you have a stronger, more flexible team working with you.
Addressing in-house skill gaps
Engaging an MSP for your IT staff augmentation helps address in house skill gaps—and fill gaps you may not even realise you had. One big benefit of an MSP is that you potentially gain access a wider talent pool. 
Your MSP will be based in Australia, with local experts on their team. But they're savvy: they know they need the best tech talent, so if they need to engage an international team member, they will. And working remotely, so borders and time zones aren't an issue. So by working with an MSP, you gain access to industry experience that you otherwise wouldn't be able to attain with traditional hiring processes.
Building an agile organisation
IT staff augmentation through an MSP provides you with greater flexibility in scaling up or down as per business needs. You're not reliant on one small, overworked team; instead, your MSP works fast and flexibly, enabling your company to quickly adapt to changing resource or project demands, whether it's expanding operations or downsizing during slower periods.
MSPs build their reputation on their skills, so you get peace of mind that they're operating at the cutting edge of IT. So by engaging an MSP for your IT staff augmentation services, it empowers your company to adapt to the rapid changes in technology, navigating the changing business landscape without the need to invest in new on-premises technology.
Common IT staff augmentation myths
We can't write an article on IT staff augmentation without addressing—and busting—some of the common myths associated with this staff augmentation model.
Staff augmentation is expensive
One big misconception when it comes to engaging external staff augmentation is the cost. At the outset, it may seem more expensive, particularly when you calculate the cost effectiveness of doing it at an hourly rate.
But this isn't the only metric project managers have to use. Consider the overall productivity of your IT team. New employees don't come into the company and hit the ground running. There's a ramp-up time, and it's estimated that new hires are only working to 50% productivity within their first few weeks of employment.
Conversely, your MSP comes on board ready to work. With a minimum onboarding time, they integrate with your network and systems and start delivering improved IT services and customer satisfaction within days.
As we've discussed before, you don't pay super, insurance, or other benefits either. And as your IT load increases, you don't have to onboard another resource; simply add another user or device to your current MSP remit, and enjoy much bigger savings in the long run.
External IT resources are only suitable for low-level tasks
There's a misconception that IT staff augmentation is typically outsourced to an offshore staff augmentation company, located in a different time zone, and is only good for troubleshooting or fixing issues.
But with an MSP, that's not the case.
MSPs, offering vCIO and vCSO services, play crucial roles beyond mere troubleshooting. A vCIO, is the equivalent of a fractional head of IT; focusing on aligning technology strategies with business goals, facilitating not only solutions to immediate issues but fostering long-term growth.
Similarly, a vCSO is a senior cyber security expert, essential in crafting robust security strategies and safeguarding the organisation against an array of digital threats. These roles embody a proactive approach to IT management, demonstrating that MSPs are equipped to provide strategic and on-site services, going beyond mere break/fix solutions.
There's a lack of control
When engaging an MSP as part of your IT staff augmentation strategy it can sound on paper like you're giving up control of your IT to another party. Which is true, to an extent. But by choosing the right MSP, it helps you maintain control of your IT in a much more comprehensive way.
You're working with dedicated experts who will ultimately deliver a better job than a single internal resource, project manager, or a short-term contractor. You're gaining access to a higher level of knowledge and skill, helping you see better outcomes: for your IT load, for your teams, and for your company as a whole. Skills that help to improve your bottom line, and boost the safety and security of your company.
And if you want to be cynical, a good MSP is only as good as their reputation, and their paycheque is reliant on delivering excellence for your teams.
Data safety risks
It may feel risky to trust your company's IT needs to an external party. You're letting them manage your network, infrastructure, sensitive data, and essentially taking a hand in helping your company grow.
But by engaging an MSP you're putting your IT in the best of hands. They're seasoned IT and cyber security experts, who have the skills, training, and capacity to help build a more secure organisation.
It's actually much more likely for data threat risks to come from inside your company, from disgruntled staff or ex-employees. A recent example in Perth saw a government employee undertake a fake invoicing scheme to defraud the WA Department of Communities of $27 million.
When you engage an MSP, there are contracts and safeguards in place to limit risk. And in reality, staff augmentation poses about as much of a threat as full-time workers, if not less.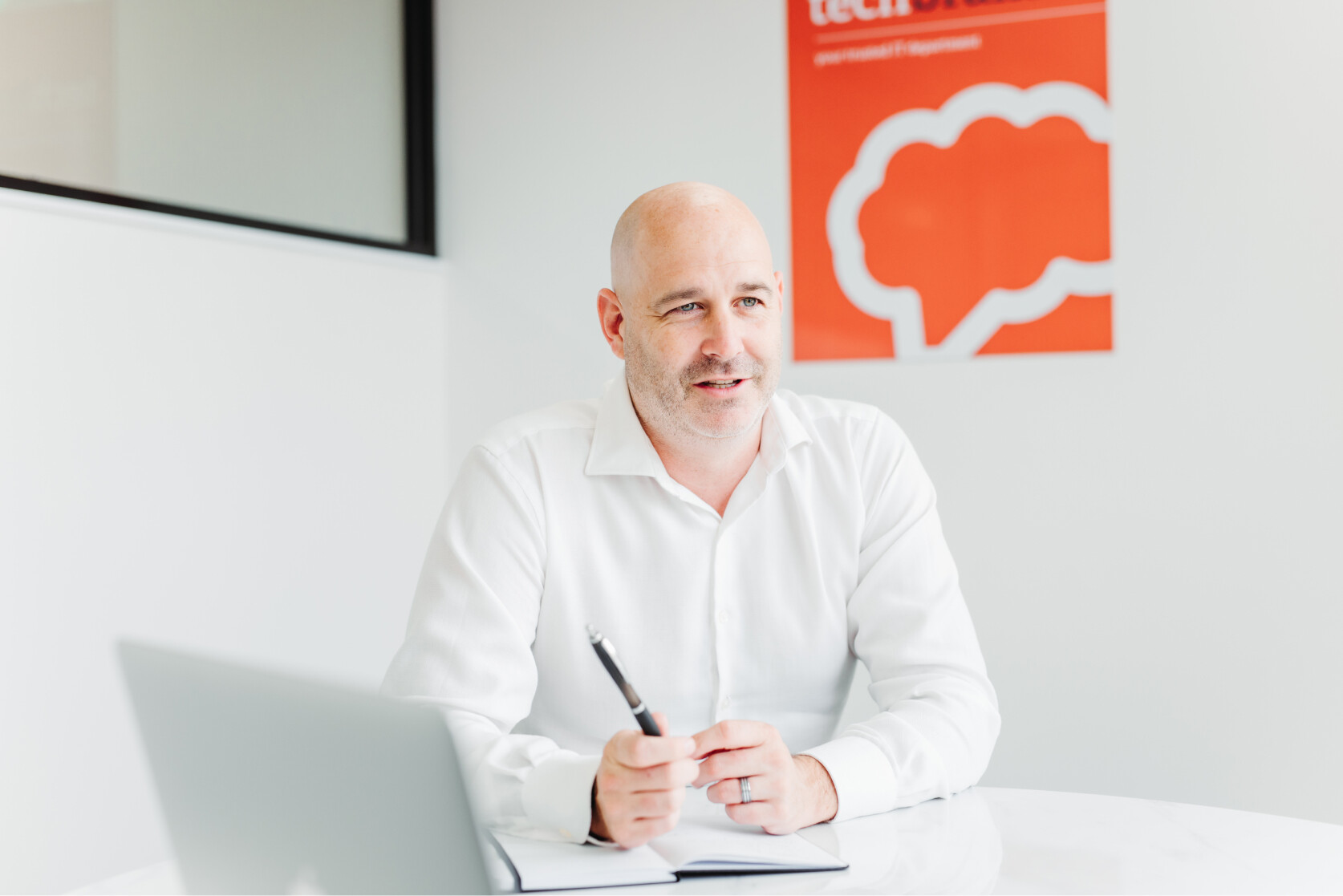 Budget for success with TechBrain
In the ever-evolving IT landscape, agility and cost-efficiency are crucial in supporting your organisation to achieve its goals. So it's important that you have the right resources on your side.
So if you're looking to optimise your resource allocation, boost your IT efficiency, and ensure the safety and security of your data, get in touch with TechBrain for your staff augmentation needs. 
With over 20 years of experience, we're leaders in the Australian IT industry. We come on board as your MSP partner, delivering a comprehensive range of innovative, efficient managed IT services that support your business to grow—while reducing your IT costs for the long term.