What does 'enterprise' mean in the IT world?
While enterprise IT may be considered a catch-all term, the 'enterprise' label positions it in a class of hardware and software designed to support the needs of enterprise-level organisations. Essentially, it talks to the ability to be deployed across an entire organisation, rather than at a function or departmental level.
These solutions offer more power and performance, deeper analysis and insight capabilities, scalability opportunities, improved reliability, and far superior security measures. They're built to deliver seamless connection and information flow between every touchpoint of a business, regardless of its size.
So this actually classes most enterprise IT solutions out of use by small and medium businesses, as they require greater infrastructure capabilities and technical expertise to build, deploy, and manage.
But for enterprise businesses, they provided improved performance across an organisation's entire suite of software and tools, while consolidating the company's disparate and discrete applications and programs—from multiple business areas and units—into one central platform.
Enterprise IT delivers a holistic solution, and covers a range of important business systems, such as:
Customer Relationship Monitoring (CRM)
Enterprise Resource Planning (ERP) systems
Business intelligence platforms
Project management software
Enterprises data solutions
Digital security systems
Accounting software
IoT device management systems
Even a business' intranet.
This consolidation and streamlining helps businesses to store the full scope of their complex and ever-expanding data load, and provides a central location through which they can then gather, analyse, and gain insight from this data, accessing integrated subsequent platforms through which they can act on this insight.
Essentially, a business' enterprise IT solutions are designed to support the broader business, rather than individual users—but built to be used by individual users to support the business—while helping the business grow by streamlining its processes, eliminating inefficiencies, improving reporting timeliness / accuracy and reducing human error.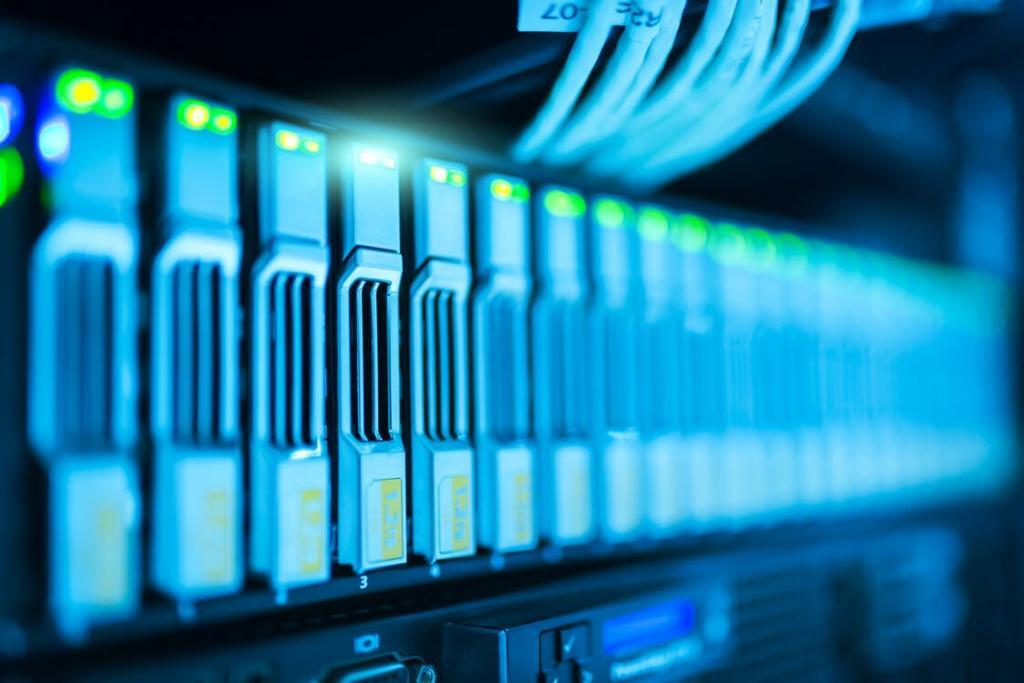 What are the unique requirements of an enterprise IT system?
An enterprise IT system is designed with features and capabilities not found within standard IT systems, and offers a level of functionality that enables an enterprise-level company to operate at its peak.
Often referred to as an Enterprise Resource Planning system, or ERP, there are some unique requirements that a robust enterprise IT system must include for it to function effectively, and continue delivering value to the business long into the future.
ERP systems incorporating software from providers such as SAP and Oracle have become increasingly popular in recent years. Rather than purchase each component of the system from a different supplier, organizations opting for an ERP system obtain everything they need from a single source. While this offers many advantages, it's important to keep in mind that ERP systems generally have a preferred mode of operation.
More commonly, the business requires the ability to combine a number of different organisational systems into one comprehensive, expansive platform.
Component systems are individual system modules that work together to complete a larger task. These systems may communicate with each other through a shared database, or they may each maintain their own databases.
Some component systems may be legacy systems – older systems that use outdated technology but have been wrapped with, for example, a service interface so that they can interact with other systems. Other components may be off-the-shelf systems from different manufacturers, or specially written systems designed for the specific task at hand.
By their nature, enterprise solutions are multifunctional systems, and provide differing levels of functionality. So each element of the solution must be able to be accessed, understood, and utilised by users at every level of the business and are an integral part of wider socio-technical systems in the enterprise.
Now that's not to say that every user can access every different element of function available in the system. Rather, that the various enterprise functions are available at differing levels of responsibility, technical understanding, and information security access. And while the results are geared towards management, the practicalities of the solution itself should be one that teams from every level of business can use and gain value from.
It's more than just a database. It's crucial that an enterprise IT system solution provides wide-ranging data gathering capabilities, with the ability to draw in, clean, categorise, and present data from all relevant and connected business databases and sources.
But to achieve a solution that delivers on these unique requirements, the IT architecture itself needs to be addressed, to ensure it's robust enough to support the weight of the business' data needs as it grows.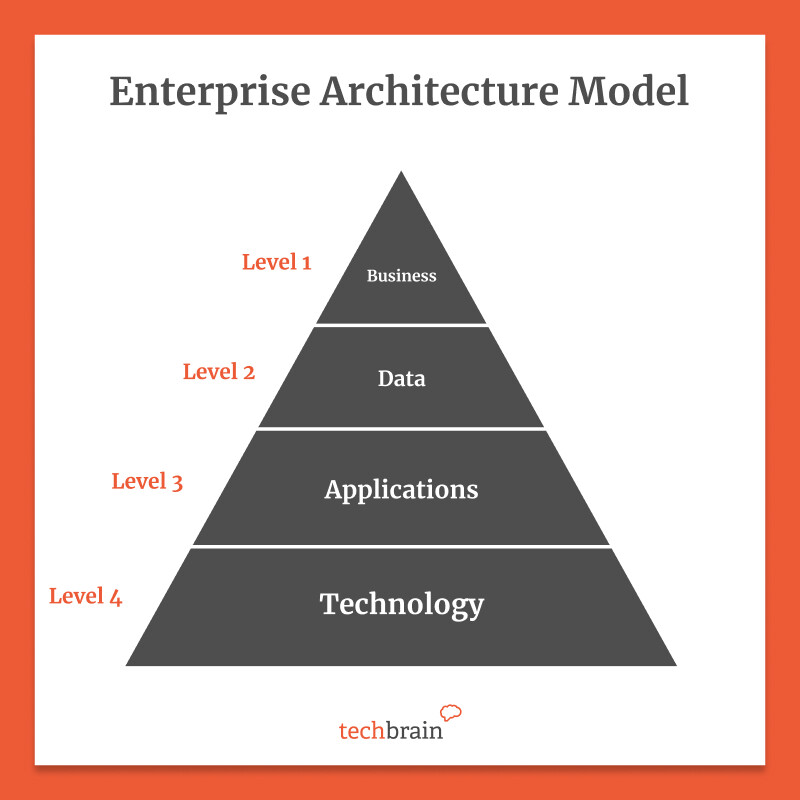 The top strategic priorities for enterprise architecture
Unlike standard IT architecture, which exists to service the day-to-day needs of a business, enterprise architecture shouldn't be created in a vacuum. It needs to be created with a clear vision of the business' outcomes and goals.
And while business goals are typically unique across different businesses, there are some strategic priorities that are common among all good IT enterprise infrastructure, priorities that deliver a flexible and agile framework for the business to follow, enabling the organisation to move forward and navigate any changes in the business landscape.
Enterprise system integration
The ultimate goal of your enterprise IT solution is to create a system that connects your organisation. So integrating your enterprise IT solution with your existing systems works to ensure your business maintains continuity and uptime. Then, as your business matures, it's a far more streamlined process to adopt new technologies and add them into your workflows.
Enforced best-practice governance
Building your new enterprise solution on a best-practice governance framework ensures better outcomes from the start. Strict governance is crucial to enable secure access control and to deliver an optimal working environment, and performance, for the future.
One of the main advantages of implementing appropriate permissions and responsibilities when the architecture is first designed means that, moving forward, every touchpoint of your enterprise IT solution is rolled out within clear parameters—resulting in a best-of-breed IT solution.
No confusion, no security issues, and no shadow IT issues; everything works to a tightly-controlled script.
Improved decision-making
Implementing an enterprise IT solution should improve your business decision making capabilities, so streamlining business processes and eliminating inefficient process steps is a priority when designing enterprise IT architecture.
The right solution is able to combine multiple disparate apps or platforms into one, improving ease of use, while driving down cost. Ultimately, it delivers a whole business view that simplifies the process from information gathering to decision making, creating better connections and improving organisational information flow.
Data & analytics
A holistic enterprise IT solution enables your business to create connections that facilitate better information access—and therefore, better and more accurate data. It connects databases and data warehouses to ensure full access to data at a granular level, business-wide. This in turn improves the speed of your data processing—and the quality of data—delivering improved business efficiency and faster problem solving.
It enables connection to enterprise-grade business intelligence, further powering a business' ability to do more with, and gain better insight from, its data.
Customer relationship monitoring
Customer Relationship Monitoring, or CRM, is a staple in modern business. It enables an organisation to learn more about its customers and clients, gathering more comprehensive data for forecasting and decision-making, with the ability to undertake better analysis of its daily business interactions.
This enables business users to understand how stakeholders of all types contact and interact with the business, but at a deeper level. You can drill down to understand their actions, identify the value they receive from interacting with your business, and then use this to guide future interactions.
A CRM system as part of your enterprise IT solution ensures any person in the business can safely and quickly access the information they need; one source of truth across your organisation.
Comprehensive CRM capabilities should be a priority when designing enterprise IT architecture.
Migrating to cloud architectures
The cloud changed the face of IT, and there's no going back now. So it's critical that enterprise organisations take advantage of cloud technology to enable a future-proof business.
It's important to work with the right team to develop and deploy your cloud architecture. They can help combine all the necessary infrastructure and components to create a solution that's infinitely scalable, powerfully robust, and enables direct and immediate exchange and storage of information and actions.
An enterprise IT solution that's native to the cloud facilitates an entirely new way of operating for a business, so moving to cloud architecture is crucial in the pursuit of a future-proof organisation.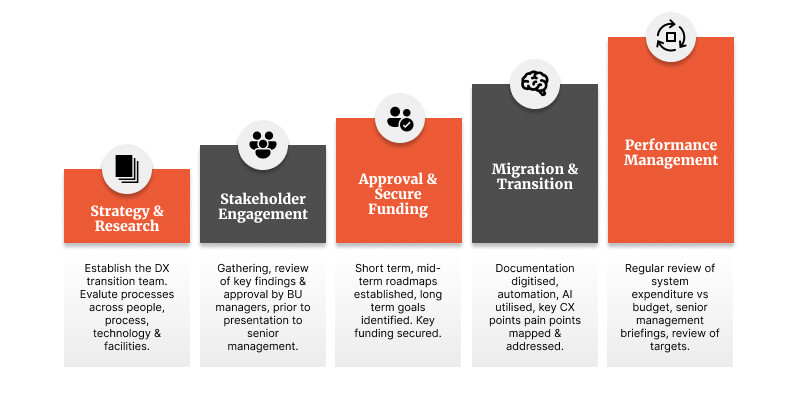 How to build your enterprise IT transformation roadmap
To effectively deploy your IT enterprise solutions, your business can't operate in the dark. It sounds obvious, but it can be surprising how many businesses lack the requisite planning before deploying their enterprise IT.
Without the right guidance, there's no clear way to confirm that the systems being adopted can help your business work towards its strategies. An enterprise IT transformation roadmap helps to link your IT rollout to your strategies and goals, confirming that you're securing the right digital technologies and enabling your organisation to ultimately ideate, build, deploy, and leverage a more robust and future-proof enterprise IT solution.
And while an enterprise IT transformation should be unique to your business needs, there are a number of critical touchpoints your process must move through first.
Here's what we recommend.
Define the problem and identify gaps in capability
Take a comprehensive look at your business' IT systems and servers. Where does your business currently have capability for optimisation? What processes are you looking at transforming, and what problems will enterprise IT transformation save for your employees? Where do your current systems fall short?
Then, assess the impacts against your business of both addressing these problems, and doing nothing. How will these new systems enable a future-focused business—and how do they link to your business strategy?
Identify the solution
Once you've mapped out where your need to improve your systems, you can work with your IT team or a specialist enterprise IT vendor to determine the right solution for your business. They can perform a complete audit of your systems and network to confirm that your needs will be met, and advise on the best digital technologies that will deliver on your business goals.
They can also discuss pricing, and whether there's the opportunity to share resources with different vendors through partner programmes.
Gain senior management approval
Enterprise IT transformation can only be achieved if it's driven from the top down, so your senior management team must be on board in order for it to become a reality. After all, they're the people responsible for communicating the initiative across the entire business, championing the cause, and communicating the changes as the roll-out occurs.
So your C-suite needs to be brought on at the very start, and stay active throughout the process, to ensure they understand the value this transformation will bring. This way, your business has the commitment and backing it needs to guide it into the future.
Secure funding
Large-scale enterprise IT transformation needs a significant cost investment in order for it to deliver on its promise. But while it may seem like a frighteningly large outlay, the future return on investment cannot be overstated.
Without enterprise IT solution transformation your business will grind to a halt once technology passes you. But with the right platforms and systems in place, you're able to enjoy success long into the future.
This is where having your senior management team on board is critical: they can help secure funding and resources to engage the best systems for your business.
Appoint a launch team
Your deployment team needs to be up to the challenge of rolling out a far-reaching system transformation, so it's critical that you appoint a high-calibre team to achieve the task.
Start with the chief member of the team, and work out from there. By having the foundation in place on the back of a trustworthy specialist, it creates a better draw to bring together the right members to your team.
And rather than choose people from your industry, focus the skills they bring to the table, rather than their experience in your specific circles. Cross-pollination of exceptional skills and strengths can build a much stronger, more robust, and more flexible team. So don't be afraid to contact and engage talent from industries that are seemingly completely different to your own—the skills and ability to get the job done is the critical component, while your in-house talent can assist in keeping the project within the bounds of your industry.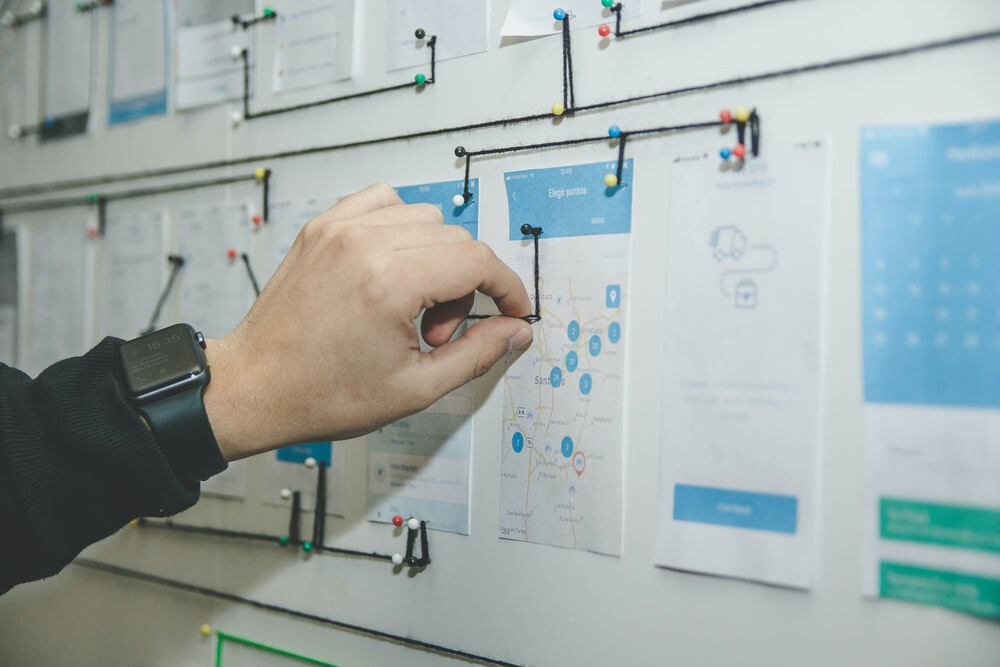 Establish a project plan
Once you've got the roadmap, approval, funding, and team to deploy your transformation, the next step is to establish a step-by-step project plan to ensure your transformation is completed thoroughly.
Define the scope, tasks, timeline, and talent, add in the milestones, and you'll start to see a clear plan come to life.
Be sure to include projects that are easy to achieve, but deliver significant rewards. These 'lighthouse projects' provide evidence early on that enterprise IT transformation is not only achievable, but hugely beneficial to your business.
After all, many small changes are easier to accommodate than one large one—and in seeing incremental change, you can build business approval and momentum. This momentum helps you navigate roadblocks, or gain enough backing that you can smash through them altogether.
Execution and monitoring
With the right foundation in place, it's time to launch your enterprise IT transformation .
But it's not a matter of deploying new systems, providing training, and then expecting the business to stay on board. Effective and efficient enterprise IT transformation needs constant monitoring to ensure it remains on track.
Continuous monitoring will ensure your project team, and management, are across any gaps in planning and delivery. It ensures that the goals and milestones are being met, and that the right team is available to perform corrective measures or steer the transformation on the right path.
Evaluation shouldn't be left until the project has run its course, either. Ongoing evaluation can provide real-time results and demonstrate the progress and value that this transformation is delivering for your business.
It's time to futureproof your business processes
As you can see, IT enterprise solutions aren't just discrete platforms or programs that your business sets and forgets. They're a complete ecosystem of digital technologies designed to empower your business to take advantage of advances in technology.
When implemented correctly, these solutions enable your business to futureproof its processes, so it can be more flexible, more agile, and make more robust decisions—faster—while empowering your teams to do better work with more autonomy.
Essentially, it's designed to support your business in building a roadmap not just for 2022, but for the future.
At TechBrain we help businesses ideate, plan, and deploy enterprise IT solutions that ensure they're set up for a successful future, regardless of what may be over the horizon.
Contact us to discuss how we can help your business with your enterprise IT planning, and help you create a system that's built for success.